PowerUSB-DigitalIO is the simplest and easiest integrated PLC in the market. Anyone with Windows computer knowledge can create simple and yet powerful power digital logic control and power control for their product. It is also an interface device for digital logic (sensors and other instruments) to computer via USB port. It is both a consumer device and an engineering device to control power and logic. User can create powerful logic control within minutes without any prior knowledge of hardware or PLC. It is a PLC in consumer friendly power strip form factor
Main Features of this model include
Three 110V/220V Power control with standard US outlets (adapter available for other countries)
Four Digital Inputs
Three Digital Outputs
5V power supply (if customer does not need opto isolation)
Digital IO with terminal block
The unit can operate in either computer connected mode where the PLC logic is controlled by the software running in the attached computer. It can also operate in standalone mode where user connects it to computer with USB and programs the logic using a dialog box. Once programmed, it can operate standalone using the stored logic. A shown in the next section, a sample or complex PLC control application can be created within minutes without any process automation knowledge
This easiest PLC can be purchased from PowerUSB
| | PowerUSB Digital IO | Generic PLC |
| --- | --- | --- |
| Integrated Input, Output and Power | Yes | No |
| Normal Power Control | 8A | 1A |
| Data Interface to Computer | Yes | Custom Solution |
| Power Consumption Measurement | Yes | No |
| Implementation Time | Minutes | Hours |
| Learning Curve | Minutes | Days |
| Enclosure | Consumer Power strip | Industrial |
| Integrated cost for the functionality | $149 | $250 |
Simple Application: Photo Booth
When customer walks into the booth camera and lights are powered on inside the photo booth. The camera displays live preview of the user in a monitor. The camera takes a snap when user presses Photo Snap button. At the end the user gets photo printed by pressing Print button. In this example, an automated photo booth is operating with PowerUSB Digital-IO in standalone mode without the aid of any computer.
Connections:
12V In and Gnd: External 12V (or 5V) power supply
Input 1: Motion Sensor
Input 2: Camera Snap Switch
Input 3: Print Switch
Output 1: Camera Snap Control
Output 2: Printer Print Control
Power Outlet 1: Camera Power
Power Outlet 2: Lights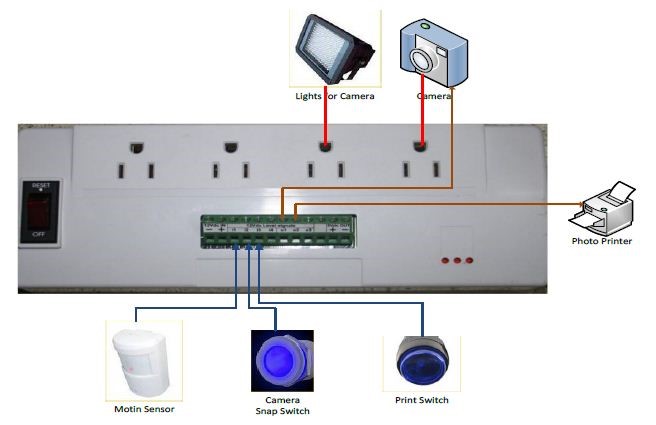 Operation:
As user enters the photo booth, the motion sensor is triggered (Input 1). The system switches on the lights (outlet 2) and camera (outlet 1) for 5 minutes. Any further detection of motion by the sensor will extend the power by 5 more minutes.
User looks at the live view from camera and presses photo snap button (Input 2). The system sends a digital signal to camera snap cable for 2 seconds (output 1) to take a picture. The picture will be displayed in live view and stored in the camera's memory card.
If user likes the picture and presses print button (Input 3). The system sends a digital signal to printer (Output 2) in order to print the latest picture being viewed on the monitor.
Complex Application: Conveyor Control
A standard PCB conveyor transfers the PCB from previous conveyor to current conveyor for inspection. Once the inspection is complete, the current conveyor transfers the PCB to the next conveyor using SMEMA interface standards. This system uses hand shaking mechanism to communicate among the conveyors, where the board is transferred only when the current and previous/next conveyor agree on transfer.
Connections:
12V In and Ground  : External 12V (or 5V) power supply is connected for +12V and Ground
Input 1: Input from Previous Conveyor (Ready to Send)
Input 2: Input from Sensor in current Conveyor (Broad Reached its Inspection Position)
Input 3: Input from Next Conveyor (Ready to Receive)
Input 4: Broad Release Switch (Board is ready to be released)
Output 1: Output to Previous Conveyor
Output 2: Output to Next Conveyor
Power Outlet 2: Conveyor Motor
Operation:
The previous conveyor sends ready signal when it is ready to send the board (Input 1). The PowerUSB checks to make sure input 2 (Board sensor) is off (no board) and then switches on the Motor (outlet 2) and sends ready to receive signal to previous conveyor (output 1)
Board reached the conveyor sensor (Input 2 goes from lo to hi). The conveyor motor is stopped to hold the board
The Board is released to the next conveyor (Input 2 goes from hi to lo). If the previous conveyor is ready to send board (input 1 is hi), Send ready to receive signal (output 1) for 30 seconds and start the conveyor motor (outlet 1)
The next conveyor sends Ready to Receive (Input 3 lo to hi). If the board is present (input2 is hi) and board release switch is on (Input4 is high), send sending board signal (output2 is high) run the motor for 30 seconds (outlet 1)
The Board release switch is pressed (Input 4 lo->hi). If the board is present (input2 is hi) and next conveyor has ready to receive signal (input3 is hi), run the motor for 30 seconds (outlet 1)
Summary
PowerUSB Digital-IO integrates PLC automation in an easy to use package at a much lower cost compared to other generic solutions. It has input-output control and Relay based power control in a compact power strip plastic enclosure. It provides a complete integration solution for PLC automation tasks. It is an entry level automation device that can be used by a anyone, no learning required. Additionally, the computer attached mode offers complex logic control options for advanced user who needs to design and implements complex industrial electro-mechanical automation projects. With this easiest PLC, automation can be implemented in minutes compared to days.